Are you looking for an SEO partner in Las Vegas? Look no further than DeVille Digital Marketing! Your partner in SEO Las Vegas. As a company, we pride ourselves on helping businesses grow by creating customized digital marketing solutions. Our approach is simple: we listen to clients' needs, understand their goals and objectives, and create a tailored strategy that delivers results. This blog will introduce you to DeVille Digital Marketing, explain why we are the best choice for your SEO needs in Las Vegas, and take you through our three-step process. So what are you waiting for? Let your business reach new heights by contacting us today!
Understanding SEO: Benefits You Can't Ignore
As businesses compete for a higher market share, online visibility has become an essential aspect of modern marketing. DeVille understands the importance of having a solid online presence and offers comprehensive Las Vegas SEO marketing services to help businesses stay ahead. 

Benefit #1: Increased Website Traffic
Effective SEO techniques can do wonders for your website's organic traffic. Improved search engine rankings will increase your brand's visibility and exposure, boosting leads, sales, and conversions. It not only does that, but it also aids in helping you focus on keywords and phrases pertinent to your company. When executed well, an optimized website improves the user experience, resulting in better engagement and retention. Compared to other marketing strategies, SEO is cost-effective and generates long-term results. Better search engine rankings can enhance your brand's credibility and authority while keeping you ahead by improving your online presence and reputation. 

Benefit #2: Budget-Friendly Approach
Spending money on SEO can be a very cost-effective method for all sizes of businesses. The organic traffic that SEO generates has no cost-per-click or advertising costs, which can significantly lower marketing expenses. In addition, by focusing on niche markets that have expressed interest in your products and services, SEO enhances your marketing initiatives' overall return on investment.
Additionally, spending money on SEO builds a powerful online presence that encourages long-term outcomes. As your website becomes more well-known and respected in higher search engine rankings for your industry, you can draw more quality leads and have a higher chance of becoming a customer. Adopting a holistic SEO approach ensures you stay competitive in the digital landscape and catch up to your competitors, providing a scalable and sustainable strategy for a better ROI over time.
Benefit #3: Improved Brand Credibility and Trust
Effective SEO strategies can help improve the visibility and credibility of your brand on search engines, ultimately leading to increased trust with potential customers. By optimizing your website with high-quality content that speaks to your target audience's needs and interests, you can establish yourself as a trustworthy source of information in your industry.
Customers continue to return to your site. By investing in SEO, you also commit to your brand's online reputation. A well-optimized website can help build a strong brand image and differentiate you from competitors in the market. Furthermore, effective SEO campaigns allow you to target specific audiences and demographics, further enhancing your brand's credibility and authority. Finally, positive user experiences on your website due to effective SEO strategies can increase customer loyalty and, ultimately, sustainable growth for your business over time.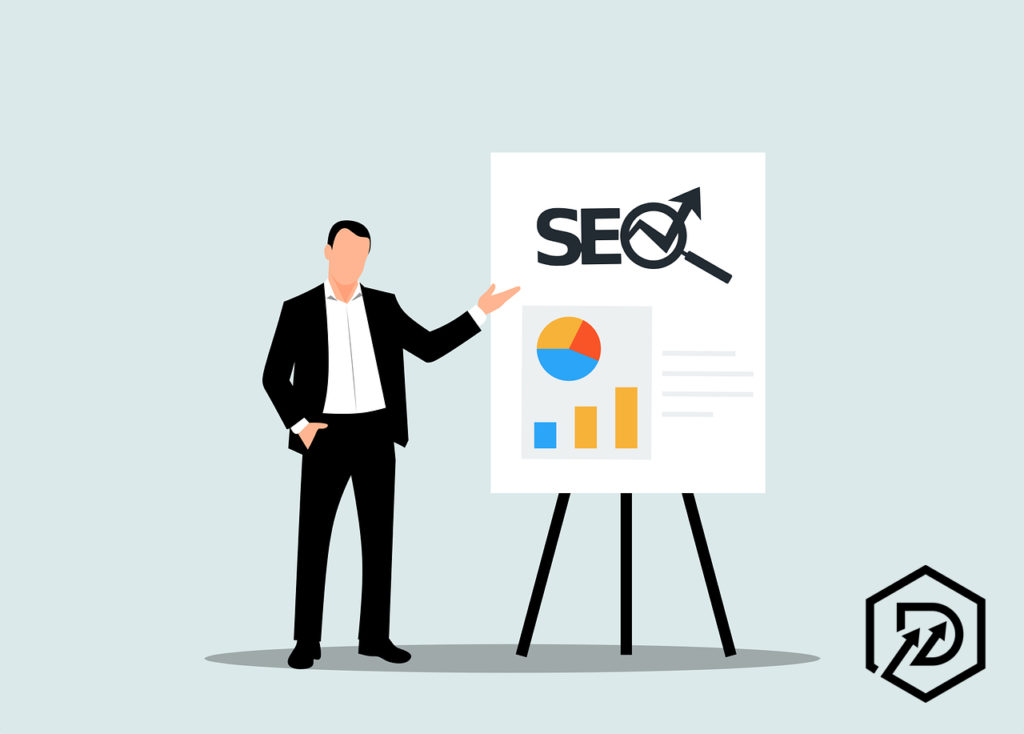 What Makes DeVille the Ultimate Marketing Solution for SEO in Las Vegas?
Our team of experts provides comprehensive SEO audits, optimizing website structure and content to improve search engine rankings. With ongoing monitoring and reporting, DeVille's customized SEO plans can help boost online visibility for businesses of all sizes and industries and achieve long-term success.
Custom Web Design Solutions
A well-designed website is essential for any business looking to increase its online presence, and DeVille's custom web design solutions can assist you in doing just that. With tailored designs that reflect your brand identity, responsive layouts, and mobile optimization, DeVille's designers can help enhance your SEO efforts and ensure higher search engine rankings. In addition to these services, they also offer integration with social media platforms, providing a seamless user experience for potential customers.
Search Engine Optimization
Ensuring your website is easily discoverable by search engines can be challenging, but it becomes more manageable with Search Engine Optimization (SEO). SEO is the process of improving the visibility and ranking of a website on search engine results pages. DeVille's expert team uses keyword research, on-page optimization, link building, and content creation to enhance the website's relevance and quality. By incorporating these strategies into your online presence, your business can attract more potential customers and establish a robust digital footprint.
SEO Content Writing
Crafting high-quality, engaging, and relevant content is crucial for any website's success. DeVille's SEO content writing services are designed to help your Las Vegas business stand out in a crowded digital landscape. Our team of expert writers conducts extensive keyword research and optimizes your content to improve its search engine visibility. With our top-notch content, you can expect to attract more visitors to your site and keep them engaged for extended periods, resulting in increased online visibility and traffic. Trust us to craft compelling content that drives measurable results for your business.
Google Ads Management
Google Ads is a powerful tool to help businesses drive website traffic and increase sales. DeVille's Google Ads management services provide clients the expertise they need to create effective ad campaigns and maximize their ROI. With keyword research, ad creation, targeting, and optimization, our team of experts can help you reach your target audience and achieve your business goals more efficiently. Plus, with regular reports and analysis, we ensure you get the most out of your advertising spend. So let DeVille help you take advantage of the power of Google Ads for your Las Vegas business.
Keyword Research & Strategy
Effective keyword research and strategy are fundamental to a successful SEO campaign. At Deville Digital, our team uses advanced tools to identify the most relevant keywords for your business. We then develop a customized keyword strategy tailored to your goals and target audience. Finally, with regular monitoring and adjustments, we ensure your website remains competitive in search engine rankings. So trust Deville Digital's expertise for all your SEO needs in Las Vegas, and let us help you reach your online marketing goals.
On-Page Optimization
Optimizing pages to rank higher on search engine results pages (SERPs) is essential for improving your website's online visibility. Deville Digital offers comprehensive on-page optimization services to ensure your website is fully optimized for search engines. Our expert team uses the best techniques and practices to improve your website's visibility and ranking. From optimizing page titles, meta descriptions, header tags, and keyword usage to enhancing the user experience, our SEO Las Vegas services can help increase organic traffic and provide better ROI for your business. Trust us to deliver measurable results with our customized on-page optimization strategies.
Off-Page Optimization
Improving your website's visibility and authority on search engines requires more than optimizing on-page factors. Off-page optimization is a crucial component of any comprehensive SEO strategy. Deville Digital uses various off-page optimization techniques to increase the quality and quantity of backlinks from reputable websites, including guest blogging, influencer outreach, and social media marketing.
FAQs About Deville Digital's SEO Las Vegas Services
Potential clients often have several questions about the SEO services Deville Digital Marketing offers. To help clear up any doubts, we've answered some of the most common queries below. Firstly, we provide a comprehensive range of SEO services in Las Vegas, including keyword research, on-page optimization, off-page optimization, local SEO, technical SEO, mobile optimization, and e-commerce SEO. In addition, our team approaches every client's website as a unique project and crafts a customized solution tailored to their needs.
Regarding search engine optimization, one of the most common questions businesses have is how long it takes to see results. While there is no one-size-fits-all answer, Deville Digital works closely with clients to provide realistic expectations and timelines based on their situations. Factors such as industry competitiveness and website status can impact the timeline for seeing results, but consistent efforts and ongoing optimization are crucial to achieving long-term success with SEO. 
Conclusion
With our experience and proven track record of delivering results, we specialize in providing customizable SEO strategies to meet your unique business needs. With our expert team of professionals and transparent communication, we ensure that you receive the best possible service. Our SEO services benefit your business by increasing online visibility, generating targeted traffic, improving conversion rates, and enhancing the user experience. Contact DeVille Digital Marketing SEO Las Vegas today to learn more!